CONTACT
Obscura Gallery, LLC
1405 Paseo de Peralta
Santa Fe, NM 87501
info@obscuragallery.net
505-577-6708
Owner | Director Jennifer Schlesinger
We are open 11-5pm, Tuesday – Saturday.  We are also open by appointment, please call 505-577-6708 or email info@obscuragallery.net to schedule a visit outside of normal business hours.
PLEASE NOTE:
The gallery will be closed October 21 – October 30, 2018. However, we will be open by appointment.
To schedule an appointment during this time, please call Caitlyn Soldan 847-648-0093 or email catiesoldan@gmail.com.
We will resume normal business hours on October 31, 2018.
Additional free parking is available Monday – Friday from 8:00am – 9:00pm at the State Capitol Parking Facility municipal garage located at 485 Galisteo Street. There is also metered parking always available on Galisteo street next to the Parking Facility.
Keep in touch! Join our mailing list here!
Please send inquiries below:
Items with a red asterisk (*) are required.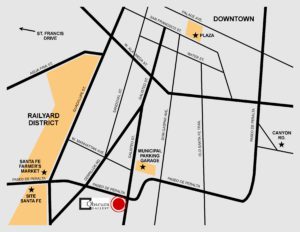 Many endless thanks to the team of Jeff Louviere (Louviere+Vanessa) and David Martin (NOLAflash.com) for the concept, design, and implementation of our Obscura Gallery website.