PAST EXHIBITIONS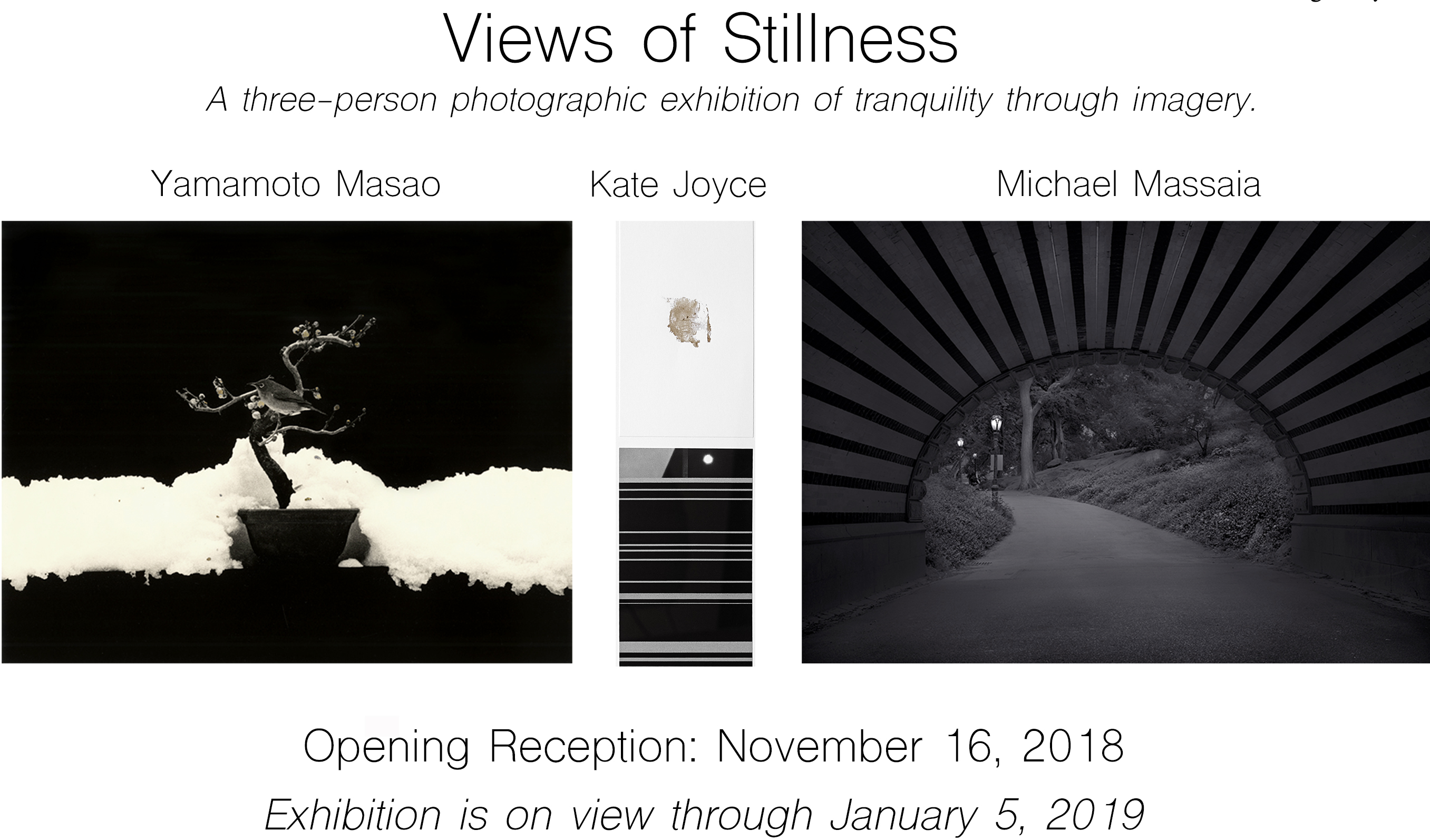 Obscura Gallery proudly presents a three-person photographic exhibition,
Views of Stillness
, with Michael Massaia, Yamamoto Masao, and Kate Joyce. The exhibition features three photographers who each portray a sense of balance and harmony in their work that results in tranquility to their imagery. Michael Massaia and Yamamoto Masao both search for scenes absent of crowds which creates a solitary intimacy and reflection within their imagery. Michael Massaia, from New Jersey, seeks the dichotomy of landscapes in urban areas that are void of people within the quiet hours of late night and early morning. Yamamoto Masao from Japan, practices the art of "Shizuka" or "breathing quietly in nature," in order to capture the 'presence of treasures' that he seeks with his camera. Santa Fean Kate Joyce's work, 'Ten-Diptychs' was inspired by the digital loss of a photographic series that, when once restored, formed accidental imagery that allowed her to overcome and pacify her expectations, resulting in a harmonious balance of self and image.
The exhibition opens with a reception on Friday, November 16, 2018 from 5-7pm at Obscura Gallery, 1405 Paseo de Peralta, Santa Fe, New Mexico. The exhibition is on view through January 5, 2019.
VIEW YAMAMOTO MASAO WORKS
YAMAMOTO MASAO, #67, A box of Ku, 1997, mixed media and gelatin silver print, edition of 40
VIEW MICHAEL MASSAIA WORKS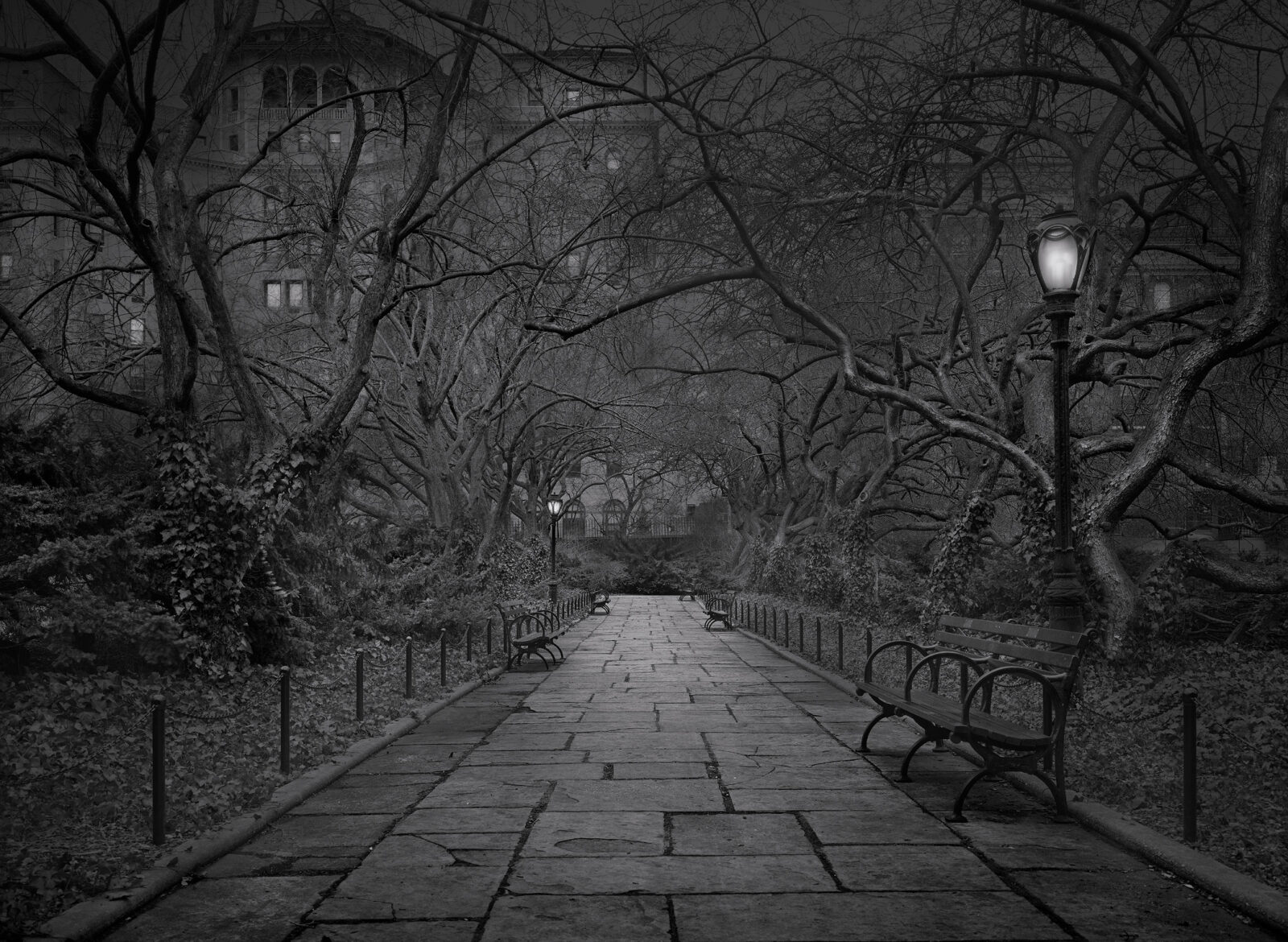 MICHAEL MASSAIA, Central Park, Private Gardens, 2013, 22x28", gelatin silver print, edition of 20
VIEW KATE JOYCE WORKS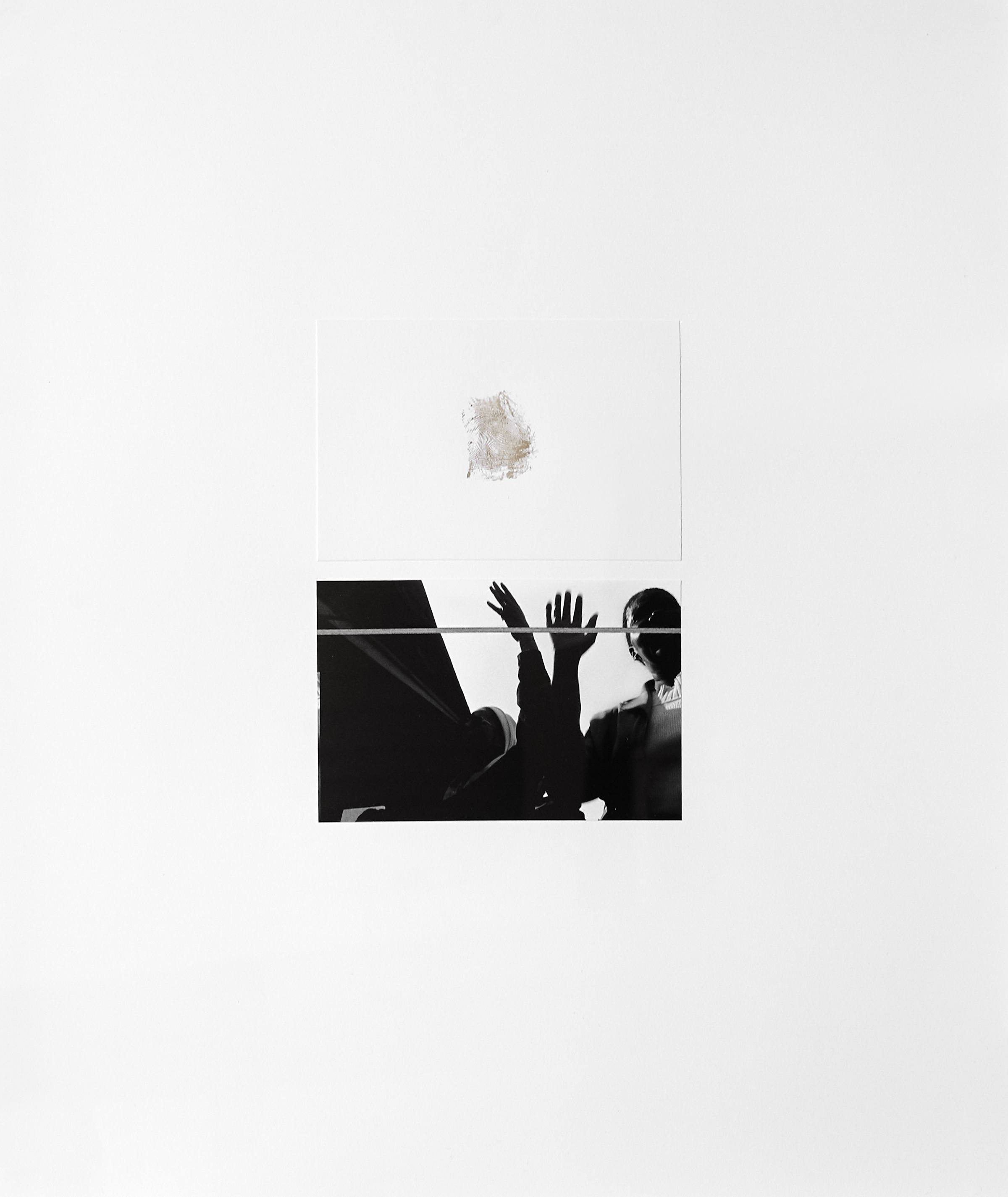 KATE JOYCE, Right Thumb & T5594x3678-02064.tif, 2007, 5 X 6.75", archival pigment ink print, Unique.
DOWNLOAD THE FULL PRESS RELEASE HERE.
Entrance Gallery with Michael Massaia Central Park large format gelatin prints.
Front Gallery with Kate Joyce and Masao Yamamoto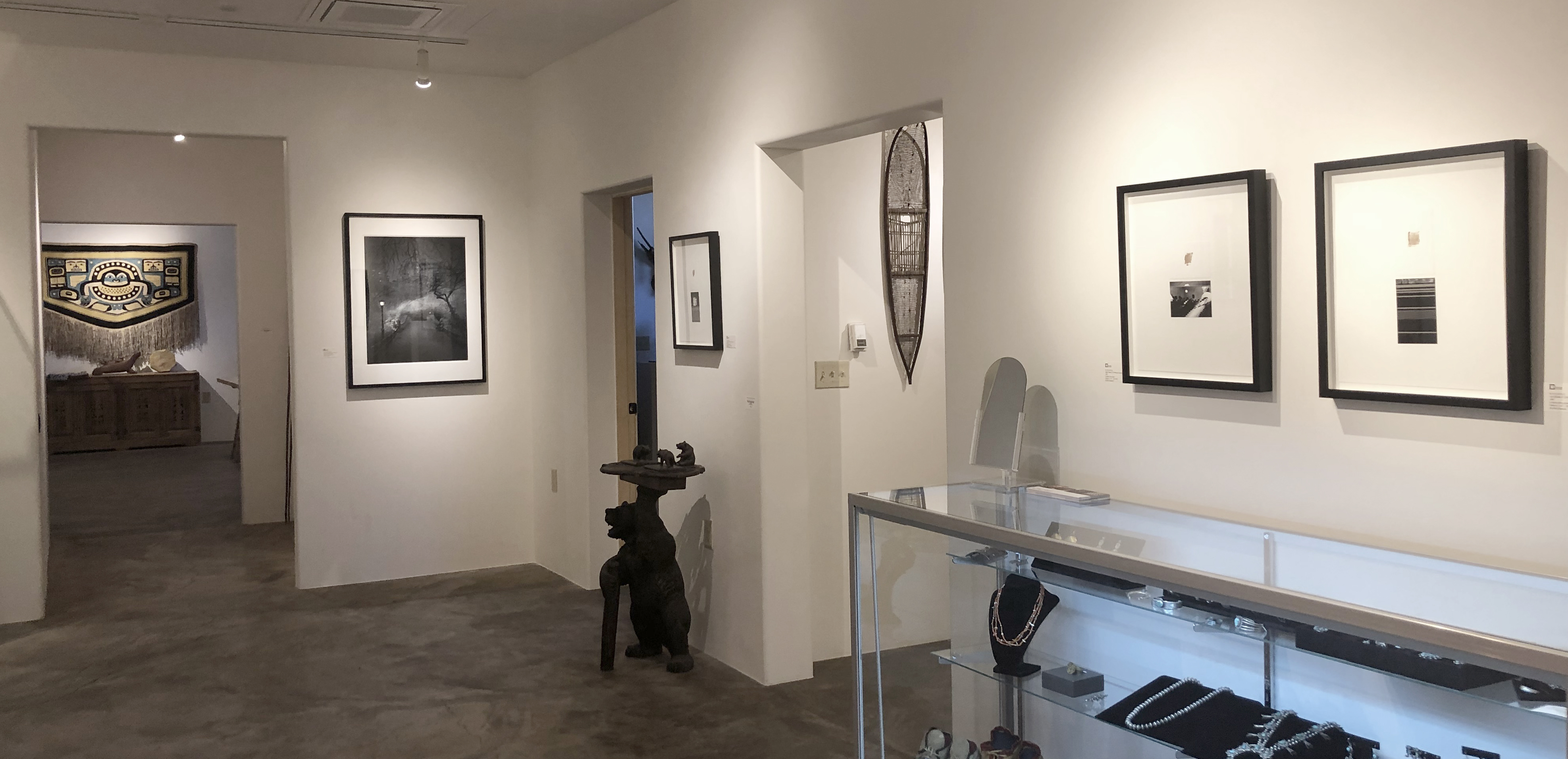 Center Gallery with Michael Massaia and Kate Joyce
Viewing gallery with Michael Massaia and Yamamoto Masao.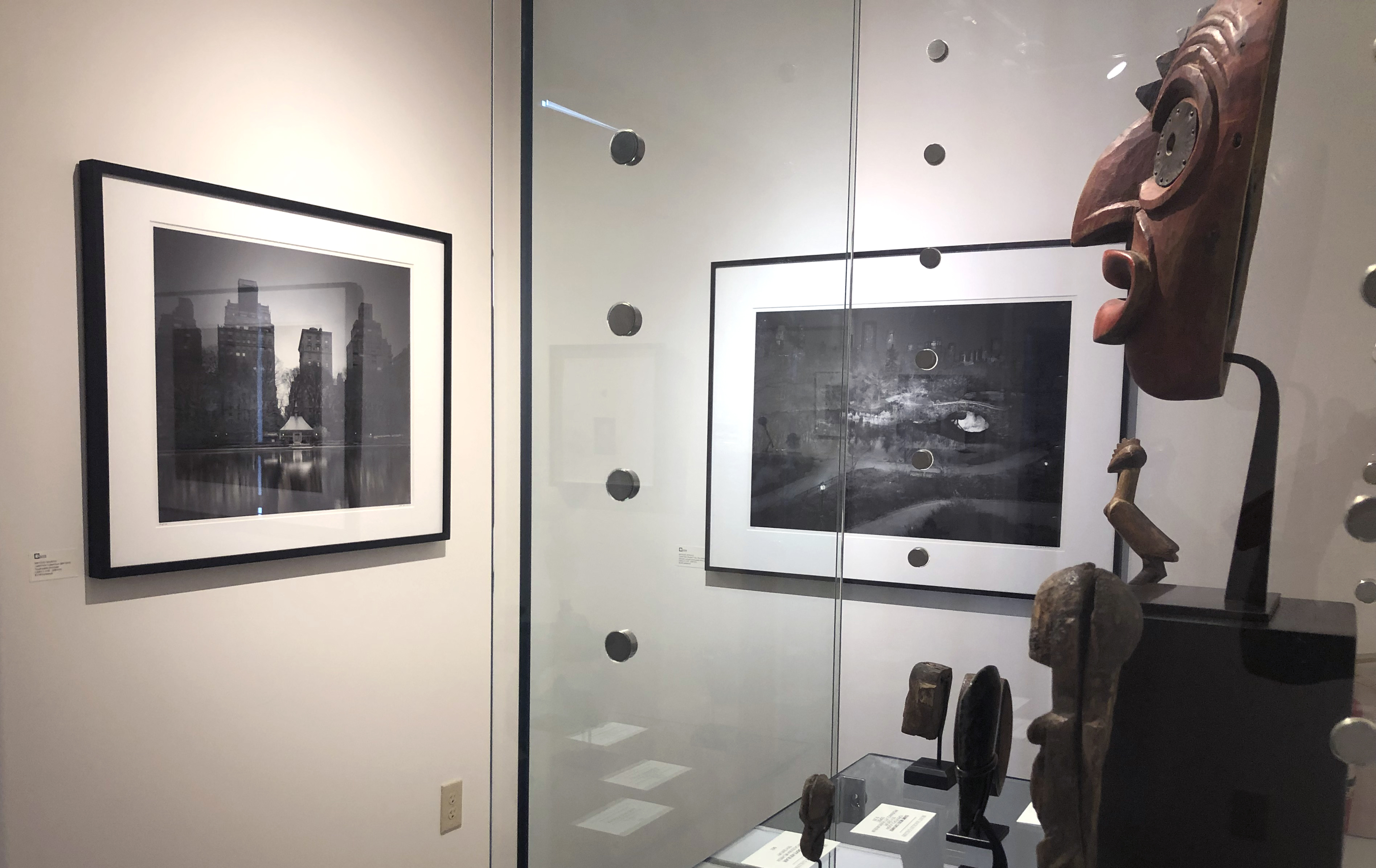 Side gallery with Michael Massaia.
________________________________________________________________
This solo exhibition includes over 50 exquisite gelatin silver prints hand printed by the artist. The exhibition is a fifteen year photographic study not only of Monument Valley itself but it also demonstrates the artist's unique eye for patience in the art of seeing.
KURT MARKUS, Monument Valley, 2011, 20x25", archival pigment ink print, edition of 25.
Monument Valley is located at the four corners region spanning Utah and Arizona on the Navajo Nation Reservation.  Tse'Bii'Ndzisgaii, the Navajo name for Monument Valley meaning 'clearing among the rock', spans five square miles with fragile pinnacles of rock of sandstone that tower up to 1,000 feet. For hundreds of years, the Navajo have raised livestock and farmed small quantities of crops in the valley. Not just a place of habitation and livelihood, Monument Valley has significant meaning to the many Navajo who took refuge in the valley when forced out of Canyon De Chelly by the U.S. Army during the "Long Walk."  An 1868 treaty allowed their return to their ancestral homeland and established the Navajo Reservation. Other parts of Monument Valley have been added to the Navajo Reservation over time. Monument Valley became popular with Hollywood when John Ford's first of many movies, Stagecoach, was shot there in 1938, starring John Wayne, and making him a star, as well as putting Westerns in a respected film genre.
Monument Valley is the one place that will always be there for me. No matter the comings and goings of the world's players, Monument Valley persists, in its own and uniquely quirkiness, delighting me, renewing me, challenging me, simply carving out pieces of my heart, for safe keeping. Thank you, Navajo Nation, for making Monument Valley what it is, without pretense or visible intent to modernize your sacred land. May that Wild West rocky road that drops down into the valley serve as the gateway to something more spiritual, a descent into another time. - Kurt Markus, 2017
VIEW THE ONLINE EXHIBITION HERE
Download the Kurt Markus - Obscura Gallery Press Release here.
________________________________________________________________________________________________________
August in Santa Fe
Opening Reception: August 11, 2018, 4-7pm
Please join us Saturday, August 11, 4-7pm as we celebrate the Indian Market festivities taking place the entire month of August in Santa Fe. Obscura Gallery will have a selection of 19th-21st Century photographs of the Southwest on display alongside the Brant Mackley Gallery exhibition 'Animals in Native American Art' at our gallery.
EDWARD CURTIS, Girl and Jar, San Ildefonso, NM, 1905, 15.5 x 11.5″, Photogravure on Holland Van Gelder paper from Portfolio 17. Plate 590.
______________________________________________________________________
Inaugural Exhibition
LIMELIGHT: Susan Burnstine, Brigitte Carnochan, Coco Fronsac, Aline Smithson, Joyce Tenneson
Opening Reception: July 14, 2018, 4-7pm
Exhibition is on view through August 3, 2018

Obscura Gallery is thrilled to present our inaugural photographic exhibition this Summer in our newly renovated gallery space at 1405 Paseo de Peralta, Santa Fe, New Mexico. LIMELIGHT, celebrates five pioneering contemporary female artists each debuting brand new work or work never before exhibited in New Mexico. Included in the exhibition are
Susan Burnstine, Brigitte Carnochan, Coco Fronsac, Aline Smithson, and Joyce Tenneson.
The exhibition is inspired by and celebrates the late New York Greenwich Village pioneering gallerist Helen Gee and her gallery, Limelight, started in 1954. Gee's gallery was the first successful and enduring exhibition space devoted exclusively to selling photography during the post Second World War era in New York. Gee's memoir,
Helen Gee: Limelight, a Greenwich Village Photography Gallery and Coffeehouse in the Fifties
, was recently published by Aperture as an e-book and was originally published by University of New Mexico Press in 1997.
THE EXHIBITION: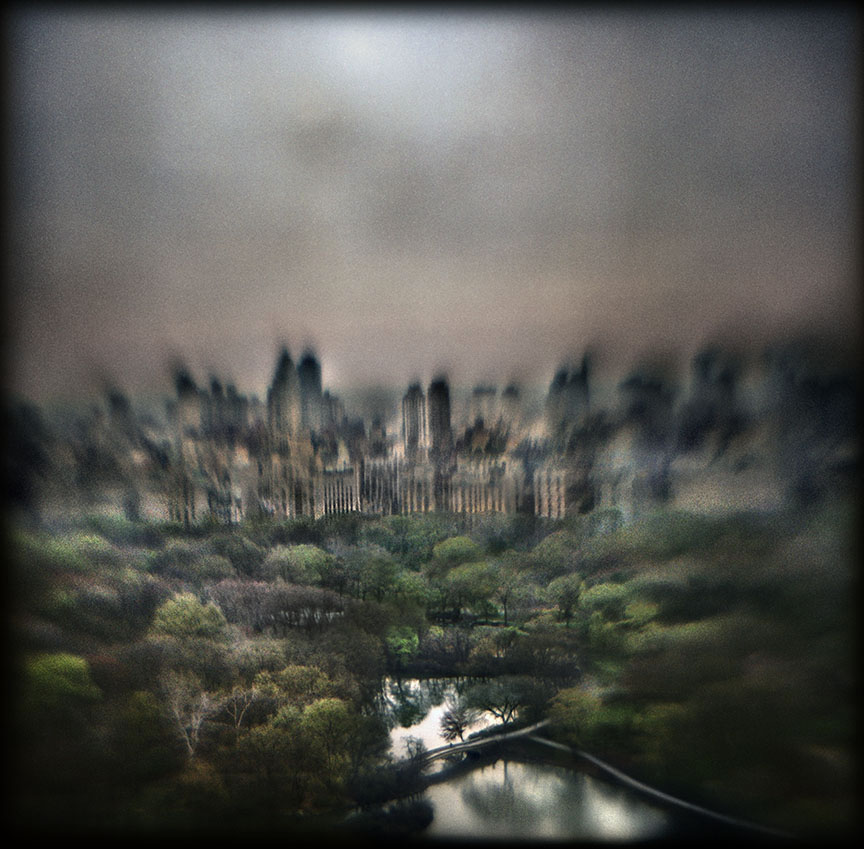 SUSAN BURNSTINE, Crossing West, 2018, 16x16", archival pigment ink print, edition of 15.
We are debuting never-before exhibited, new, color work entitled
Where Shadows Cease
, by Southern California artist, Susan Burnstine. Burnstine portrays her dream-like visions entirely in-camera, rather than with post-processing manipulations, by creating her own hand-made cameras and lenses that are frequently unpredictable and technically challenging. In the past Burnstine has portrayed her visions through the monochromatic lens of black and white, and this new work, incorporating color, brings a new sense of reality to her dreamlike visions.
BRIGITTE CARNOCHAN, Sunday Morning Roses, 2013, 16 x 20", platinum palladium, edition of 10.
Northern California artist Brigitte Carnochan is exhibiting still lifes from her garden in the platinum palladium process, imbuing a sensuality to the still life as she does so in her nudes and botanicals. Prolific in every series she produces, Carnochan's work is always elegant, alluding to the poetic and inspired by literature.
COCO FRONSAC, Dionaea Muscipulae et le ruban jaune, 2016, mixed media on vintage photograph, 5.5x4", edition of 1.
Obscura is proud to introduce Coco Fronsac to the United States photography circuit for the first time with this exhibition. Fronsac is well known in her home-city of Paris, France for her unique
one-of-a-kind pieces in which she draws and paints on 19th century vernacular photographs
. With this medium, she creates a surreal world inspired by her collection of tribal masks from mostly the Western indigenous world.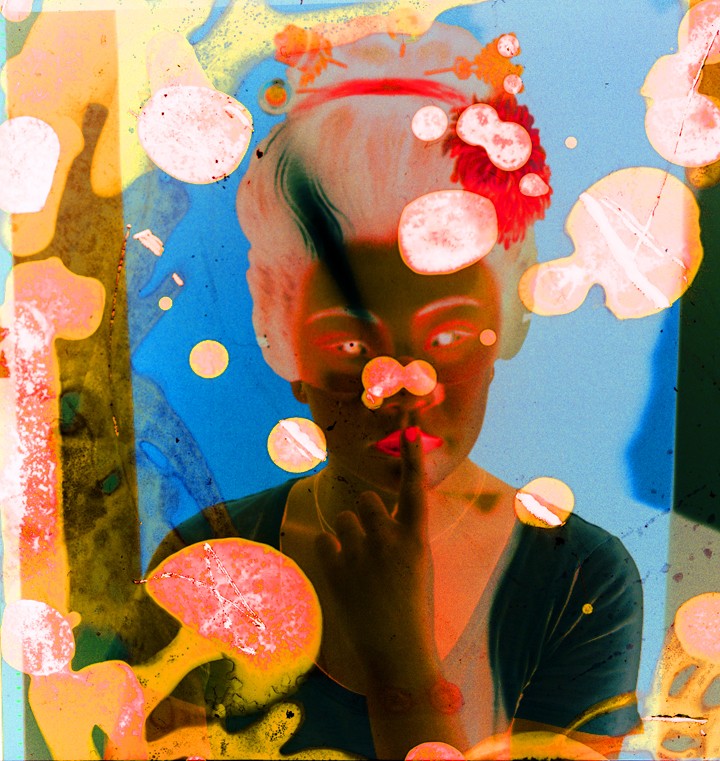 ALINE SMITHSON, Geisha, 2017, 15.5 x 13.5", archival pigment ink print, edition of 15.
We are debuting new work by Southern California artist, Aline Smithson. Smithson exhibits a selection from her new project,
The Fugue State
, which speaks to the fading away of specific memories and identity - as the work serves as an in-between of the future and the past. The images are created from bleached negatives, winding the film stock in various ways, and then reinterpreting them in the digital darkroom, resulting in vivid color portraits and patterns.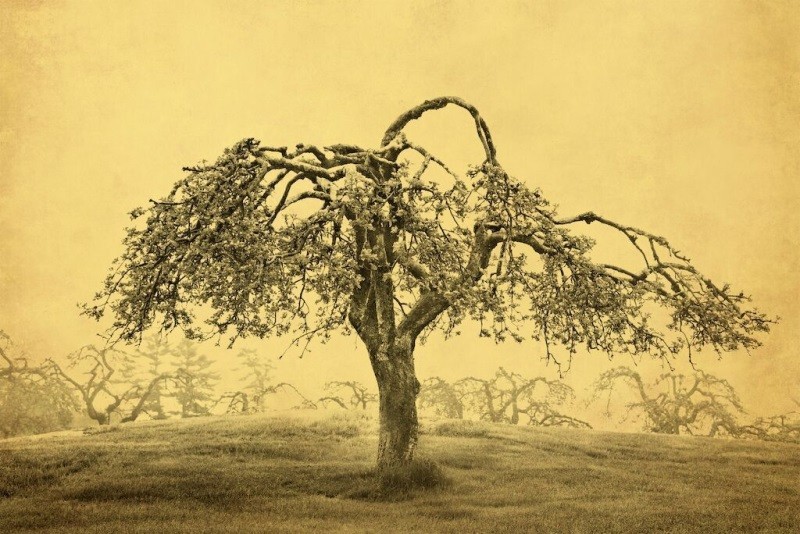 JOYCE TENNESON, Apple Tree, 11.5 x 17", archival pigment ink print mounted to aluminum, edition of 20.
Obscura will also be exhibiting golden landscape images by Maine artist Joyce Tenneson.
The Alchemy of Light
series began in 2012 as a series in mixed media with gold leaf and result now in digital prints from the originals. The exhibition includes quiet, mood-evoking photographs of trees in her similar style and portrayal of ethereal, mystical portraiture in which she is so known for.
Susan Burnstine and Brigitte Carnochan will both be present at the opening reception.

This exhibition is presented as part of PhotoSummer. PhotoSummer 2018 is organized by CENTER, Axle Contemporary, and American Society of Media Photographers in Santa Fe. Showcasing the work of a diverse group of established and emerging artists whose work is strong in concept and in execution, this collaborative effort highlights New Mexico as a place where excellent photographic work is produced, taught, and exhibited, as well as where people from near and far gather around photography.
______________________________________________________________________